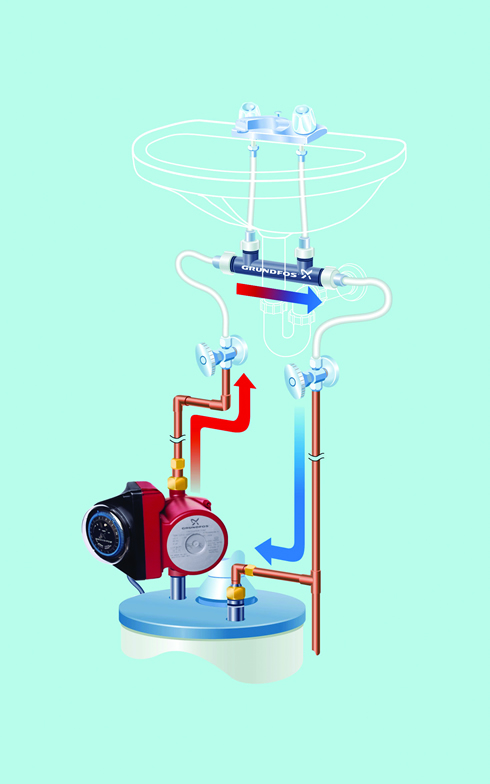 To save your customers wasting time, money and water on a daily basis, they need to install a hot water recirculation system. In practice, this means that a plumbing system has to include one string for cold water (conventional) and another for hot water.
Installing a Grundfos circulation pump in the hot water string ensures that hot water is always available throughout the system. Turn on a hot tap anywhere in the house and the water will always be hot. No waiting. No waste.
GRUNDFOS COMFORT PUMP WITH AUTO ADAPT
The COMFORT pump with AUTOADAPT sets new standards for energy-efficient comfort in private homes. In the course of only a couple of weeks the intelligent pump learns the consumption pattern of the household and adapts to it. The stored data ensures that the pump runs only when required, cutting back on both water and power consumption – which in turn saves money. Energy savings of up to 85% can be achieved.
The COMFORT pump with AUTOADAPT is part of Grundfos' popular COMFORT circulator range.
Grundfos ALPHA2 N circulator
The all new ALPHA2 N circulator embodies everything that Grundfos stands for: Proven quality combined with groundbreaking and innovative features. With a compact design that makes it easy to install anywhere the A-labelled ALPHA2 N represents the very best in energy-efficiency and technological expertise. Furthermore the ALPHA2 series is double winner of the Energy+ Award 2008 as the "Best energy-efficient circulator". The Energy+ Pumps project is part of EU's Intelligent Energy-Europe Programme. For hot water recirculation system in a multiple-family house you won't find a circulator that will do the job better than the ALPHA2 N.
Instantly hot water has been the popular characteristic of Grundfos' COMFORT pump. Now, we take the solution one step further with the introduction of the new COMFORT pump with AUTOADAPT.
Reliability is never compromised.
Should the consumption pattern change, e.g. during holidays, the COMFORT pump with auto adapt recognizes the standstill after 24 hours and automatically adapts to holiday mode.  On the return of the occupants, the intelligent pump will automatically resume the same consumption pattern as before the holiday. Consequently, the access to instantly hot water is never jeopardized.
Disinfection operation
Once every week, the system's boiler significantly increases the water temperature. The increase is recognized by the pump sensor and hot water is circulated for 15 minutes for disinfection purposes. To further ensure that bacteria growth is efficiently prevented, the system is automatically flushed if the pump has been on standby for eight hours.
https://moonvalleyplumbing.com/wp-content/uploads/2016/10/moonvalleyplumbing-logo.jpg
0
0
Moon Valley Plumbing
https://moonvalleyplumbing.com/wp-content/uploads/2016/10/moonvalleyplumbing-logo.jpg
Moon Valley Plumbing
2011-01-25 06:00:04
2011-01-25 06:00:04
Grundfos Important Facts System